Reviews
Amazon Echo Pop: A Sleek Smart Speaker for Your Home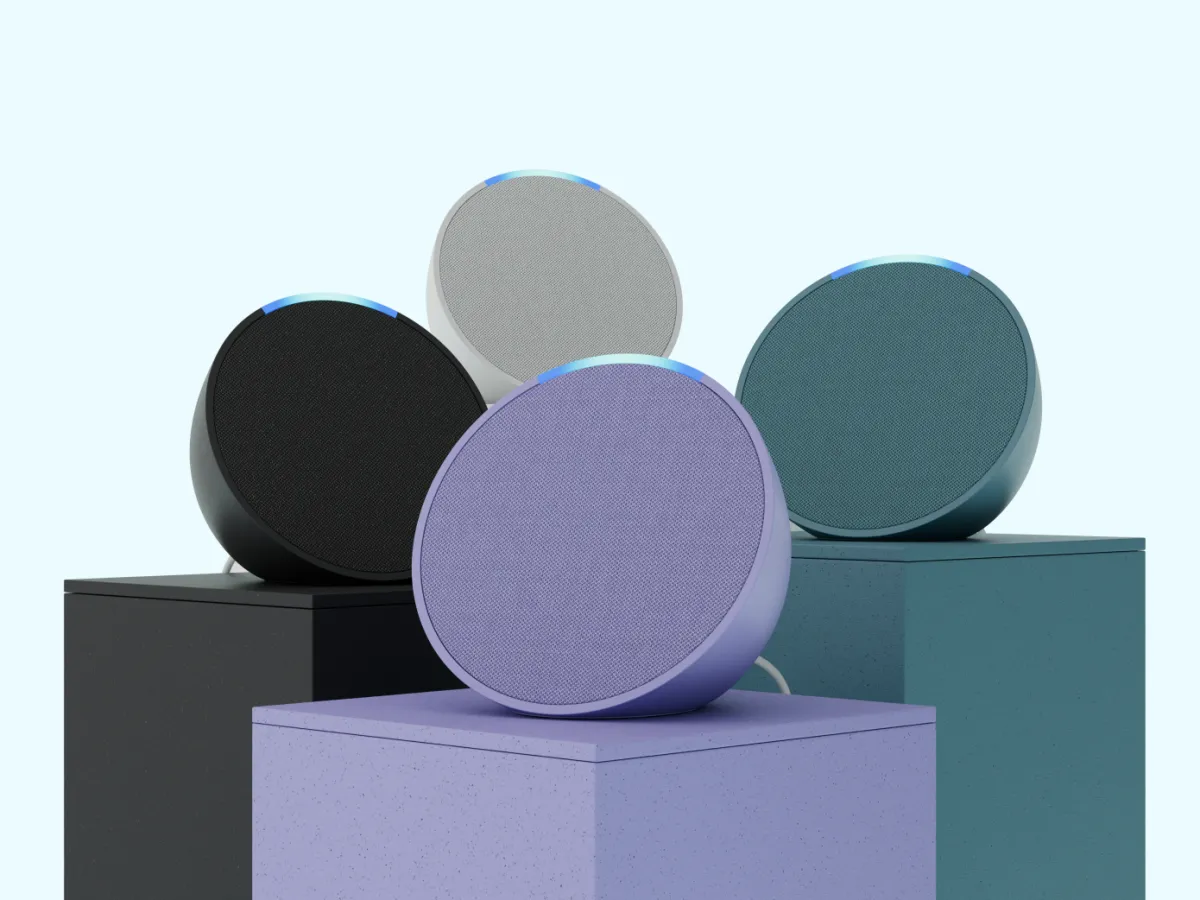 Check out the Amazon Echo Pop if you're looking for a smart speaker that can blend in with any room's decor and complement your style. This is the newest member of the Alexa family, and the emphasis is more on the device's appearance than the sound quality. In this analysis, we will take a more in-depth look at the capabilities of the Echo Pop, its sound quality, and its benefits and drawbacks.
What exactly is an Echo Pop?
The Echo Pop is a portable, spherical smart speaker with a diameter of 3.9 inches, weighs 0.6 pounds, and measures 3.9 inches in circumference. It can be purchased in the following hues: black, white, lavender, and teal. On the front of it is a fabric-covered grille angled slightly upwards, and on the top is a translucent light ring that illuminates whenever Alexa is listening to something or speaking. It has three buttons on the top that allow you to control the volume and mute the microphone.
Once the Echo Pop has connected to your Wi-Fi network, you can access Alexa, an Amazon voice assistant. Alexa is capable of a wide variety of tasks, including playing music, controlling smart home devices, retrieving news and weather updates, setting timers and alarms, and ordering goods from Amazon. Alexa skills also allow you to access third-party services and applications like Spotify, Uber, or Domino's Pizza.
The Echo Pop can also function as an Eero Wi-Fi node, which means that it can improve the performance of your network as well as increase the range of your existing wireless network. The Eero app allows you to set up and manage your Wi-Fi network and monitor your internet speed and the number of devices connected to your network.
How does it sound?
The Echo Pop features a single-speaker driver that measures 1.6 inches and produces balanced sound for most musical genres. It does a decent job of handling vocals, mids, and highs, but it needs to be improved when it comes to bass and volume. It does not produce a sound as powerful or full-bodied as the Echo Dot or the Echo Dot with Clock, which have more powerful and more significant drivers.
The Echo Pop is ideal for use in more intimate settings, such as bedrooms, bathrooms, or kitchens, where it can deliver rich sound without overwhelming the space. It is not a good choice for large areas or parties because you may want more punch and clarity. You can also connect two Echo Pops to create stereo sound or connect them to other Echo devices to simultaneously play music in multiple rooms.
What are the pros and cons of this product?
The Echo Pop is superior to other smart speakers in its price range in several respects. Some of them are as follows:
The price is very reasonable. It's one of the more affordable ways to bring Alexa into your home, coming in at just $39.99.
It is fashionable. It has a charming and colourful design that can be customized to fit your personality and existing furnishings.
You can do a lot with it. In addition to being able to perform nearly all of the same functions as other Echo devices, it can also act as a Wi-Fi extender.
It is simple to put into use. It has straightforward controls and accurate voice recognition.
However, in addition to its benefits, the Echo Pop has a few drawbacks that you need to consider before purchasing it. Some of them are as follows:
It is not very loud at all. It cannot produce enough sound to fill a large room, nor can it compete with ambient noise.
It has a limited amount of low-end. It cannot produce the deep or thumping lows some music lovers prefer.
It shows little intelligence. Also, similar to other Echo devices, this one does not have touch and temperature sensors.
It could be more portable in any way. It is not portable because it has no battery or a jack for headphones, so you cannot use it anywhere else.
Should you go ahead and buy it?
If you are looking for a smart speaker that is easy to use, affordable, and can bring colour and fun into your home, the Echo Pop is a fantastic option. It is ideal for light listening and voice control in smaller rooms where you do not require high-quality sound or sophisticated features.
However, I suggest you want a smart speaker that is more powerful and intelligent, as well as one that can display the time or the temperature. In that case, consider spending more money and purchasing the Echo Dot with Clock instead. Because of its superior sound quality, built-in clock face, and sensors for touch and temperature, our editors have selected it as the best affordable smart speaker.